Riveted...
Rivetées...
In my pictures we can't see very well the verdigris patina on the copper discs I'm afraid....
I had first made the aluminum shapes and I didn't know what to do with them. I must say I like the way they eventually turned up riveted to the copper discs and the antique salvaged rosary connector. And I'm becoming quite addicted to the riveted connections...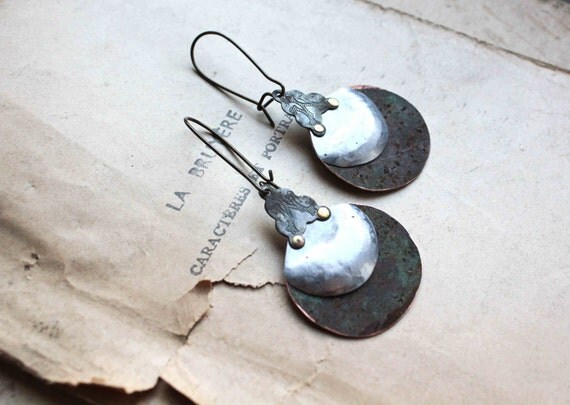 Malheureusement mes photos ne rendent pas bien compte de la patine vert-de-gris sur les parties en cuivre.
J'avais fait d'abord les formes en aluminium martelées, ne sachant pas trop ce que j'en ferais...et puis finalement je suis assez contente (oui, oui, je le dis, je suis contente!!!) de l'association avec le cuivre et aussi avec ces petites pièces de métal gravé qui sont des pièces que j'ai récupéré sur un très vieux chapelet.
Je dois dire que j'aime beaucoup les rivets, les trois pièces de métal sont rivetées avec des petits clous de laiton.