Vintage french finds and earrings
Trouvailles de vide-grenier et boucles d'oreille
The last flea market of the season was exceptional... I've found some unused beads from 1920s - 1930s, a huge new old stock!!! I usually, when I'm lucky, find a necklace or some medals... These are awesome, some metallic faceted czech glass beads, some satin translucent white...italian maybe? I must do some research to know more about them. The man who sold them didn't know a thing about them... a pity...
Ce dernier vide-grenier était exceptionnel, j'ai trouvé un stock de perles anciennes jamais utilisées!! Quand je suis chanceuse, je trouve un collier ou deux que je défais pour récupérer les perles, mais là! Superbes!! Des perles irisées métalliques à facettes, perles de bohême, des perles satinées blanches, italiennes peut-être? Le vendeur ne savait rien de leur origine ou de leur histoire, dommage....
As I won't use them all, you'll find some in my
vintage etsy shop
soon...
Comme je n'utiliserai pas tout, vous en trouverez quelques unes dans
ma boutique vintage
Some brass cups a lady told me, she bought them in Egypt, very expensive.... Well, I'm going to put them into pieces and upcycle them for these lovely embossed shapes. It seems dubious to drink anything from these edges, no?
Des tasses en laiton égyptiennes, si, si m'a dit la dame. Qu'elle a achetées à un prix d'or dans un souk.... Moi, je m'en vais les découper pour récupérer et réutiliser les motifs estampés. De toutes façons, ça paraît un peu hazardeux de boire avec ce bord en créneaux, non?
A whole roll of hand crocheted trimming and a
full box of unused pen nibs, already listed
(yes, mam!)
Un rouleau de dentelle en crochet et une boîte neuve (non, enfin ancienne mais jamais ouverte) de plumes, déjà listée dans mon shop, si, si!
and where are the earrings? ... ah, first I almost forgot that now I've got a Facebook page for my vintage finds and shop, here is the address
http://www.facebook.com/LucieTalesVintage
Ci-dessus le lien pour ma nouvelle page Facebook pour les nouveautés vintage.
So now, here are the new earrings : the
Verdigris blade earrings
!
I've used our new texan
Janet's recipe
to make the verdigris patina, brass buried in sawdust after salt and vinegar...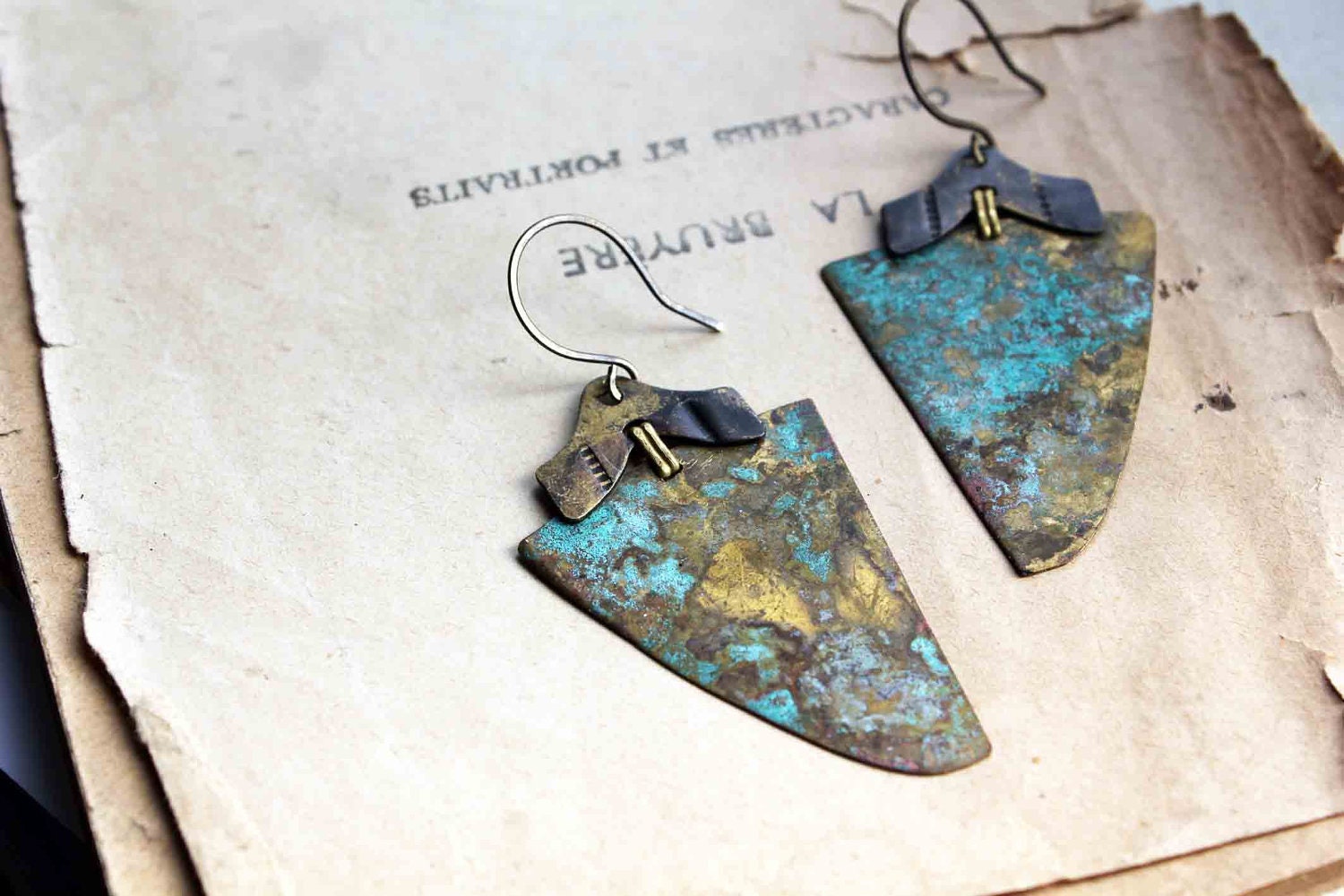 Donc voici les nouvelles boucles d'oreille. J'ai utilisé une recette de Janet pour réaliser la patine sur laiton. En anglais dans le texte!